Would You Like to Win a $60,000 Preakness Super High 5?
Are you tired of getting excited about the Preakness every year, only to go home with empty pockets and a feeling that "you should have had it." Well, you would have had it if you had real numbers for the Preakness!
Why not get the Preakness Grid? Full Race Card for Preakness Day with the best numbers available.
The Grid is so amazing, that it indicated 12 of 13 winners on 2010 Preakness day. Ask any gambler if they can win 12 of 13 races in a day and watch them laugh at you until you walk away. But it's true and I have the Grid to prove it. Don't believe? Look at the 2010 Preakness Grid!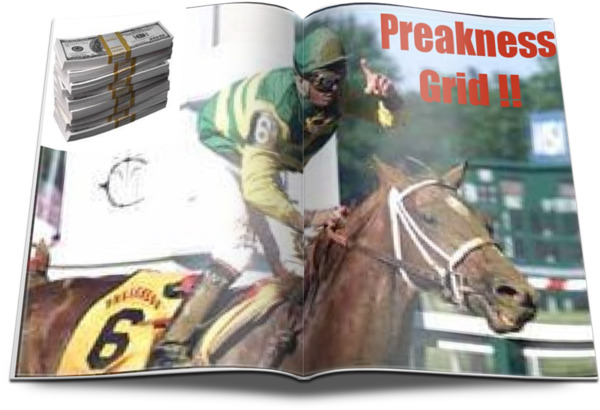 That year, I had to settle for a $2700 trifecta. I had the right horses in the superfecta but the wrong order. Had I rearranged some horses I could have had a $17,000 superfecta or $61,000 Super High 5 payout!
2011: the Grid didn't get as many winners, but did indicate Preakness winner Shackleford as the Top Power and Speed horse, and he did win at 13-1. That led to an easy $1400 trifecta. Check out the Preakness 2011 Grid Right Here.
2012: Top 3 Derby chalk, nothing we can do about that, but the Grid did indicate them.
2013: Oxbow was the Grid's top EP and 1 point off the top speed rating, won at 15-1.
Itsmyluckyday was tied for top EP and had the top speed rating, finished 2nd at 8-1.
Mylute was 3rd in power and had the top LP rating (yes better than Orb) finished 3rd at 11-1.
This my friends, is how you get a $2060 $2 Trifecta on the Preakness! The $1 super paid over $1800. We knew that there wasn't much speed and the late running Derby champ Orb would likely lose, and he finished 4th. But the Grid told us what's up!
2014: California Chrome won as expected, and few Derby horses wanted to challenge him.
Ride on Curlin had the Grid's 2nd best LP rating, top 4 in other categories, and got use 2nd at 10-1.
3rd place Social Inclusion was the top EP, 1st in speed, and 2nd in power, got 3rd.
Completing the super was General A Rod at 20-1, top 3 in several categories.
As you can see, the Grid will get you these surprise winners, runners up, and other in-the-money horses, and even if the favored Derby champion wins, as it did 10 out of the past 20 years, you can still make money!
The Preakness GRID is Now Available to the General Public.

This is it. You get to use what I have used for over a decade to hit numerous exactas, trifectas, win bets, Pick 4's, Pick 6's and even an occasional superfecta, on the Preakness. Why come home a whining loser? You need to win money that people are aimlessly pouring into those huge betting pools.
That wasn't the first time I cashed in big on the Preakness. Several years ago I won the Pick 6 for $4 grand when Big Brown brought it home. The key was a 20-1 winner in a turf undercard race, which was the top late pace horse according to the Grid. $4000 for a favorite that everyone knew would win is a good thing!
The Grid has speed figures and calculations that YOU CAN'T FIND ANYWHERE ELSE!
Why Would I Offer Such a Thing to the Public?
Well, it's not fun to be the only one cashing winning tickets!
You could have a POSSIBLE LIFE CHANGING SCORE! Why can't it be you? Why shouldn't it?
For only $7 you can have the ENTIRE RACE DAY GRID FOR THE PREAKNESS, covering all 13 races. For $7 you can make bank at Pimlico Saturday, using the best numbers money can buy.
No you can't win the Pick 6 with this, because they don't have it anymore, but they do have a 50 cent PICK 5 that can be very profitable and for a low price! Put it this way, the Kentucky Derby Pick 5 paid over $200,000!
It's also convenient. Why tote around a big book with you when you can print out a 2 page grid that has better information in it, that's easier to understand? No-brainer.
This Is Your Chance to Become a Winner!
I like to give people choices. There are a couple ways you can do this.
You can subscribe to the Weekend Winners Club for $19 a month, and get the full Preakness card Plus entire race cards for major tracks around the country every weekend. Just subscribe for 1 month to get the full race cards then cancel if you want. INCREDIBLE VALUE here.

You can click the bottom button and get the Preakness Full Race Card Grid covering all 14 races!

The last option is to do nothing, and win nothing, go home disappointed, and realize for less than $10 you could have had a major score on Preakness day.
NOTE: After you pay below, follow the redirect button provided by Paypal to get the Grid. Accounts begin processing at 11am ET every day.
Join the Weekend Winners Club Now!

OR
Option 2: Two Month Package!
Only $39 for Two Full Months of the Grid

Option 3: Buy the Preakness Full Race Day Grid Now!

Other Packages Available
***
Final Option: Do nothing and continue Losing.